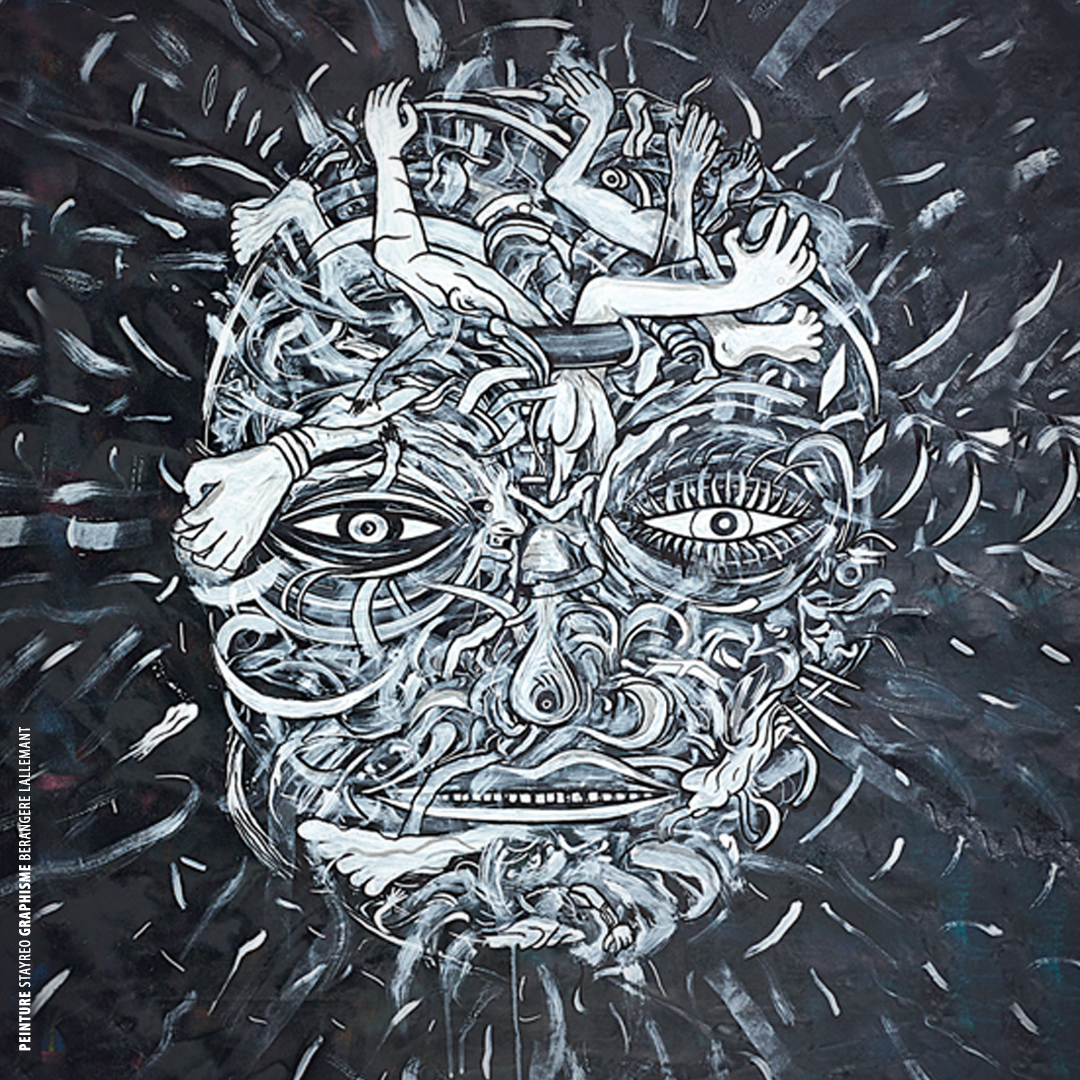 XXY
"The show is mind-blowing. Concert, dance, cinema are out the fame and the rhythm carries us, the music transports us and the images provoke us." Fabienne Schouler – Art-chipels.fr
In 2018, this singular creator unveiled her first film, XXY [ɛks/ɛks/wʌɪ], a sensitive interdisciplinary experiment that has been screened in more than thirty international film festivals and has received five prizes and nominations. 
She is currently working on its sequel, XXY, a piece of total art for ten performers that is an interdisciplinary reflection on the Feminine within the fluidities of gender.
XXY is the occasion for Clotilde—who also performs in the piece—to embody on stage her reflection on the Feminine beyond our corporeal envelopes of Woman or Man. In the face of the sexism of a dual society that divides and opposes, a society that makes violence, domination, and profit its principle generators of value, she interrogates the potential for shifting our gaze in order to deconstruct these systems and erect new ones that value our capacity to exist in an emancipatory benevolent collective exchange reflecting life itself.
Can we envisage a revolution in the symbolisms that operate in our minds and in our bodies, and offer a definition of the Masculine other than a virile and dominant bareness born of an inflicted schism with the Feminine? Can we reawaken the memory of a universal and multiple Feminine? Can we liberate the Feminine within each human being?
Clotilde explores the possibility of a "homo-supra" who will have reappropriated their two halves: Feminine and Masculine, Anima and Animus, Yin and Yang, Gu and Ru. She traces the contours of a humanity reintegrated into its wholeness and combining individuality and universality, sensitivity and intelligence, intuition and reason, body and mind, action and compassion, shadow and light, being and nothingness, life and death.
The urban dancers (notably hip hop and afro-pop) are choreographed by Mehdi Diouri and Céline Tringali (MehDia and Käfig-Mourad Merzouki companies). Mirroring the musicians on the stage, they embody the beats and vibrations of the poetic trance music of Grégory Dargent (H, L'Hijaz'Car, Houria Aïchi, Manu Théron, Babx) and are themselves counterpointed by the film images of dancing women's bodies projected onto a living set—the expression of another state of being.
All of these sonic and corporeal forms, which ceaselessly wax and wane, becoming present just for an instant, evolve within the immersive context of the shadowplay orchestrated by Anne Mars and revealed by the lighting of Gerald Karlikow (Fondation Cartier, Martha Graham), amid a scenery of scaffolding and wires that form veils, playing with polarity, space and time in pendular movements. Transmutations of a reality, they trace new contours.
"It is essential, in my view, that the audience discover the work emotionally and sensorially before any analysis occurs, as in a dream, which you experience before any analysis is possible. The idea is not to reinvent our belief systems onstage, but on the contrary, to plunge in to the reservoir of symbols of the collective soul, to overexpose the constancy of our systems of antagonisms in a blinding hyperrealism. It is by underlining the revelatory dualities of our cultural and subjective unconscious as regards the Masculine and the Feminine that we can free ourselves of them and engage a fertile dialogue which realizes the union of those halves. Decenter our gaze; view opposites as degrees of a single state of being; and, through a perpetual movement of pendular oscillations, flirt with this point of union of total nothingness and absolute being, and with the wholeness of life: an equilibrium at once ephemeral and eternal." (Clotilde)
XXY is an interdisciplinary polyphony, a stacking of sensitivities that enthuses the audience's emotions and poses questions. The shadows, the music, the movement, and the images are vectors of meaning. Each artistic discipline depicts the conventional attributes of Feminine and Masculine and plays its part independently of the others. Where they meet—through "accidental synchronisms"—there emerges a new gaze that lays the foundations for a symbolic revolution.
"A moment out of time, a multi-sensorial and singular exploration of the Feminine and the Gender question". Fabienne Schouler – Arts-chipels.fr
Concept and artistic direction Clotilde
Composition Grégory Dargent in collaboration with the performers
Choreography Mehdi Diouri and Céline Tringali in collaboration with the performers
Lighting Gérald Karlikow
Sound Céline Grangey 
Metal structures Reicko – Willy Pierre-Joseph 
"Trance" lanterns Anne Mars and La Martiennerie
"Trance" lanterns (mechanics) Héliobil
Dancers' costumes Iuliia Gulina
Musicians
Grégory Dargent (electric guitar, modular synthesizer, effects), Anil Eraslan (cello, effects), Fanny Lasfargues (acoustic bass, effects), Jean-Louis Marchand (bass clarinet), Clotilde (vocals, flute)
Live dancers
Adrien Goulinet (Bboy, house, hip hop), Willy Pierre-Joseph (hip hop, dancehall, afro, jazz), Eliott Pineau Orcier (acrobatics, hip hop), Edwin Saco aka "Jamsy" (krump), Djeff Tilus aka Jeff Steel (Breakdance)
Direction and editing of the films / VJing Clotilde

Film dancers Marina Chojnowska, Keiko Sato, Jin Xing Dance theatre Shanghai, Courtney Moreno and Tony Nguyen of BANDALOOP
Director of photography Florent Bourgeais
Digital art and multimedia consultant Arnaud Girard
Practitioners of Dahara – Kung-Fu (Tien masters) Ti Emile Morinière and Lucile Blanc
Media and external relations Elektronlibre
℗ & © Tzig'Art and Clotilde – 2018
"At the beginning of the show, we are surrounded by the sound, at first like a vibration, like a pulse, which Clotilde Rullaud calls 'an ancestral transe to modify our senses and awaken our emotions'. Successful bet!"
ARTS-CHIPELS.FR - Fabienne Schouler
"It is completely raw, intense, violent, crazy sometimes, provocative, and almost hallucinatory from time to time. The images are beautiful, the rhythm fits perfectly with the music and the dancers."
ARTS-CHIPELS.FR - Fabienne Schouler
"Although virtuosity does not appear to be the first concern of the writer, who insists more on the question of gender, the dancers know what they are doing and, above all, can illustrate with their gestures Clotilde Rullaud's subject. For some of them, they mix up in one sentence, even in one move, their rougher or stronger manhood and their buried or repressed feminine part."
DANSER, CANAL HISTORIQUE (FR) - NICOLAS VILLODRE
"Clotilde Rullaud proves to be a great director on top of being a musician and a video maker. She is versatile, she is a magician."
ARTS-CHIPELS.FR - Fabienne Schouler
Around the show:
In the hall of the theatre, the public will discover the exhibition DINTJARE by Anne Mars, the visual artist of the play, in cooperation with La Martiennerie. It will house a sound and visual installation made of cut paper artworks by Anne Mars and a soundtrack of assembling words on the Feminine in the context of the fluidity of Gender, collected during cultural activities with various audiences : youths, women's associations, seniors. Antechamber of the play in which the public can hear itself, it will allow them to prepare themselves to listen, see and apprehend the reality differently.
Photo credits : Benoite FANTON, Donasso, Romain ALLARD, Sonia BLIN
Poster artwork : Stayreo
Poster graphic design : Bérangère Lallemant