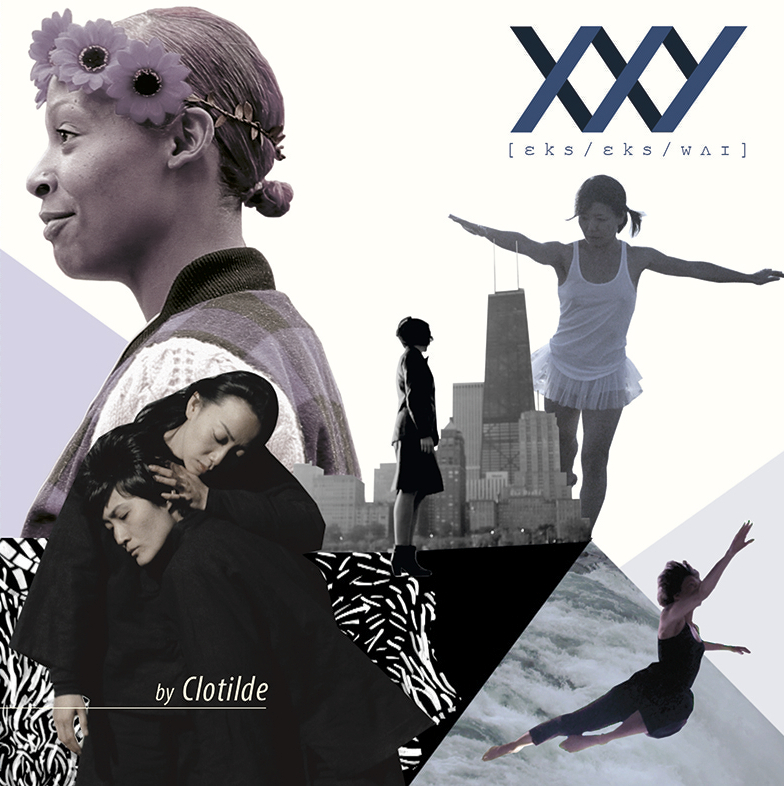 XXY [ɛks/ɛks/wʌi]
Composition : Fred 'Parker' Aliotti, Emmanuel Bex, Adèle Blanchin, Grégory Dargent, Tristan Macé, Clotilde Rullaud, Alexandre Saada
Music : Fred 'Parker' Aliotti, Adèle B., Nicolas Beck, Boris Cacciaguerra, Médéric Collignon, Anne-Lise Clément, Yann Clery, Grégory Dargent, Angelique Debay, Justin Faulkner, Jean-Baptiste Goraieb, Etienne Gruel, Cyril Hernandez, Marie Kuchinski, Albin Lebosse, Jean-Louis Marchand, Antoine Paganotti, Vincent Posty, Laurent Salzard, Clotilde Rullaud, Alexandre Saada
Sound engineer : Mathieu Pelletier, Jean-Paul Gonnod
Mixing : Jean-Paul Gonnod
Mastering : Thomas Pégorier/Brut de Prod
Graphic design : PianoChrome
Distribution : Socadisc and Absilone
© & ℗ Tzig'Art and Clotilde Rullaud – 2018
UPC : 376010040159
Catalog number : PL012
Cut paper book by Anne Mars – Limited edition with 100 copies
As a cut-out of the film, Anne Mars imagined 4 "origami books" in cut-out paper, in opaque black and translucent white to extend the sound and visual experience of XXY [ɛks/ɛks/wʌɪ].
The quotes, les names, the portraits, the silhouette of the dancers, the graphic verticalities, the organic forms cross, overlap, juxtapose and hold onto each other in order to (re)create a space where everything is moving.
The manipulation of the 4 books deploys contrasting scenic planes where the shadows of the silhouettes, the portraits, the words are projected beyond the format to extend the onirism of XXY [ɛks/ɛks/wʌɪ] by Clotilde.
This edition is a sculpture on the poetry of dancing bodies which grasps the power of the Feminin in the fragility of the cut-out paper and in the moving shadows surrounding it.
The book comes with a link to download the original soundtrack of XXY [ɛks/ɛks/wʌɪ].