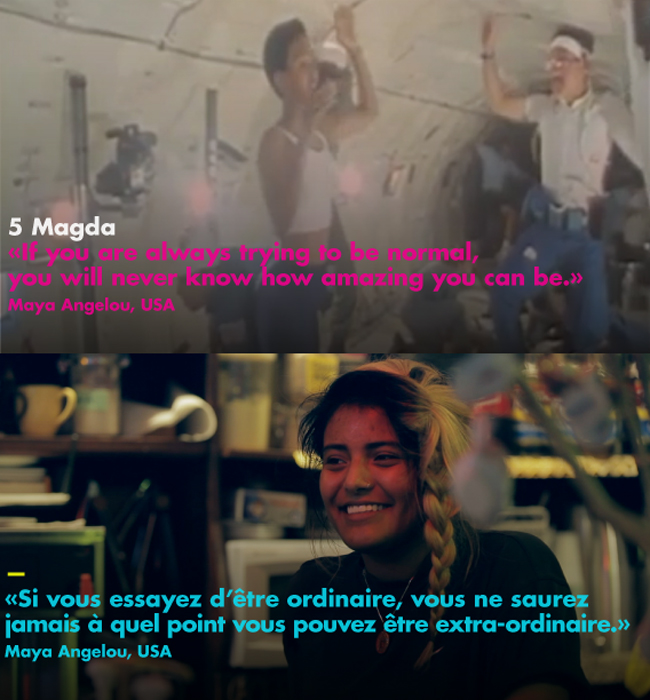 MAGDALENA – Portrait number 5 of XXY [ɛks/ɛks/wʌi]
« If you are always trying to be normal, you will never know how amazing you can be. » Maya Angelou
Finally, after all of her metamorphoses and quests, a woman is fulfilled and free, complete and whole. She has created within her a space in which her feminine and masculine parts peacefully coexist, where she can reconcile her social side and wild side, her animus and anima. She becomes a formidable female who stands like an unassailable fortress, stepping into places traditionally reserved for men while fully embracing her femininity. Thus, within every "normal" woman an exceptional woman is waiting for her moment to blossom.
Directed by : Clotilde
Produced by : Tzig'Art, with the support of the Secrétariat d'Etat des Droits des Femmes, the SPEDIDAM, the SACEM, the INA and the Centre Simone de Beauvoir.
Director of photography and cameraman : Florent Bourgeais
Editing : Clotilde Rullaud
Compositing and calibration : Stéphane Jarreau / Donc Voilà
Creation and title animation : Bérangère Lallemant
Archivist : Laurent Sternbach
Composition : Gregory Dargent and Clotilde Rullaud
Voice : Clotilde Rullaud
Oud : Grégory Dargent
Recording and mixing : Mathieu Pelletier from Downtown Studios, Strasbourg, France
Mastering : Thomas Pégorier / Brut de Prod
Mastering cinema : Bruno Gueraçague / Tabaskko
Archive images :
INA
Baronne Valerie Ann Amos & Patricia Scotlands, Pays Meles, 12/03/2002
Josephine Baker, Filles de France, Office Français d'InformaGons Cinématographiques, 02/01/1948
Coco Chanel, Coco Chanel N°1, Cinq colonnes à la une, 07/02/1963
Marie Curie, radium and cancer, les Actualités Françaises, 28/07/1954
Angela Davis,  Angela David Interview, Actualité 13h, 03/05/1981
Katherine Dunham, L'Afrique des profondeurs, Panorama, 23/04/1970
Congrès internabonal des femmes, les Actualités Françaises, 08/12/1949
Indira Gandhi, une femme au pouvoir (Indira Gandhi), Une femme au pouvoir (Indira Gandhi), Panorama, 29/01/1970
Leymah Gbowee Gbowee, co-winner of the Nobel Prize calls for peaceful elections, 10/10/2015
Tawakkol Karman, Yemeni Nobel Peace Prize winner banned from entering Egypt, 06/08/2017
Rigoberta Menchu, Rigoberta Menchu criticizes the hysteria around December 21, 13/12/2016
Jeanne Moreau, Jeanne Moreau Interview, JT 20h
Jeanne Moreau, Pour le cinéma : émission du 2 décembre 1968, Pour le cinema, 03/12/1972
Toni Morisson, Le cercle de minuit : émission du 8 novembre 1993, Le cercle de minuit, 09/11/1997
Wangari Muta Maathai, Wangari Muta Maathai Portrait, 19/20 Edition nationale, 07/12/2013
Anaïs Nin, Dim Dam Dom, 05/09/1974
Niki de St Phalle, Exhibitions of the week, 03/07/1965
Niki de St Phalle, Ceux qui ne reculent devant aucune audace : un certain art, peinture au pistolet / Les Actualités Françaises, 17/08/1965
Jean Seberg, une Américaine bien tranquille (Jean Seberg), Sept jours du monde, 16/01/1969
Nina Simone, Nina Simone at the Théâtre des Champs-Elysées, Actualités régionales Ile-de- France, 10/03/1981
Ellen Johnson Sirleaf, Nobel Price winner honors the work of three women for peace , 08/10/2015
Simone Veil, The laying of the first stone of the thermal hospital of Uriage by Simone VEIL / JT FR3 Rhône Alpes, 05/11/1979
Simone Veil, Quimper, the Breton hospital plan, Bretagne Actualités, 05/11/1981
Malala Yousafzai, Nobel Peace Prize awarded to Malala Yousafzai and Kailash Satyarthi, 20 heures, 11/12/2018
Congrès International des Femmes, les actualités françaises, 08/12/1949
Women's demonstration in Paris, JT 20h, 21/11/1975
RTS
Maya Angelou, temps présent, l'Amérique noire, 27/11/1987 Elaine Brown, le fusil en réserve
Angela Davis
JaneP Douglas, temps présent, l'Amérique noire, 27/11/1987 Aung San Suu Kyi
SONUMA-RTBF
Miriam Makeba, Cargo de Nuit, Encounter with Miriam Makeba, 08/03/1989 Nikki de Saint Phalle, Métamorphoses : l'aventure de l'objet, 01/06/1964
Centre Simone de Beauvoir
Simone De Beauvoir, portrait
Margo Jefferson, a few American Feminists Flo Kennedy, Portrait of an American Feminist Audre Lorde
Origine inconnue
Mae Jemison
Mary Mcleod Bethune
Rosa Parks, Speech of the 25/03/1965
Valenbna Tereshkova
℗ & © Tzig'Art and Clotilde – 2018
Screen certificate : 150.443
Screening references : International Short Film Festival Berlin, Festival Européen du Film Court "Un festival c'est trop court!", La Nuit Blanche, Paris Short Film Festival, Santa Cruz Film Festival, Berlin Feminist Film week, Detroit Shetown Film Festival, Biennale de la danse, Festival International de la Danse Brussels, San Francisco Dance Film Festival,  Arts Triangle,  Festival of Recorded Movement Vancouver, DAN.CIN.FEST, Athens Video Dance Project, InShadow festival, Akropodis Dance Festival, Zante Dance Festival, Open Nights DEFRAG Festival, Intermediaciones Muestra de videoarte y video experimental, Festival Jazz sous les pommiers, Festival Les Suds à Arles